Ca' Rezzonico – Portego Ground Floor
1 July – 30 October 2017
_
Four young German artists, hosted for three months by the German Centre for Venetian Studies at the Palazzo Barbarigo della Terrazza, had the opportunity to personally experience and analyse the relationship between Venice and its visitors.
Heike Gallmeier creates wild constructions in her studio that evoke comparisons with Kurt Schwitters' Merzbau, but her concept is a different one: the apparent chaos culminates in a camera-made image that seems almost painted, with constant references to art history, including the Venetian Renaissance.
In Faire des clichés, Inga Kerber has portrayed people in Venice, a city that could itself be defined as a "place-cliché" that is characterised in turn by the presence of an infinite number of other clichés. She has tried to freeze the moment in which her subject – whether resident or visitor – is transformed, like an actor about to go on stage.
Klaus Kleine has "captured" the floor of Palazzo Barbarigo's water door by means of a frottage technique. This has allowed him to experiment with reliefs of the surface and from them create freestanding sculptures. He has also made wooden forms coloured with the same black lacquer as the gondola on display on the ground floor, thus transposing the aesthetic and beauty of this unique form of vessel into a contemporary key.
Using film, Johanna von Monkiewitsch has captured and extrapolated certain effects of light in a number of specific places, then removed them from their original world in order to transmit them elsewhere via video projectors. For this exhibition, she filmed and isolated several Gibigiane, flashes of light fractured by the water at the Palazzo Ducale and at Palazzo Fortuny, subsequently projecting them onto the walls of the Ca' Rezzonico entrance hall to stimulate the visitor's perception.
_
Curated by: Petra Schaefer
With the support of:
Centro Tedesco di Studi Veneziani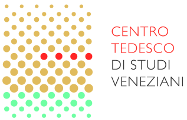 L'Incaricata del Governo Federale della Repubblica di Germania per la Cultura e i Media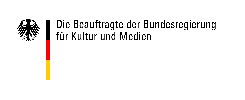 Dr. Christiane Hackerodt Kunst- und Kulturstiftung

Fondazione Berengo